Al Mirfa, Abu Dhabi 2023 WingFoil Racing World Cup – Day 3
A Day of Dilemma
HIGHLIGHTS
– Eight short course races completed in 9 to 11 knots of wind
– Which gear to choose is the big dilemma in light winds
– Paula Novotna wins 5 out of 8 races in the women's fleet
– Mathis Ghio's 6 race victories put the Frenchman in the lead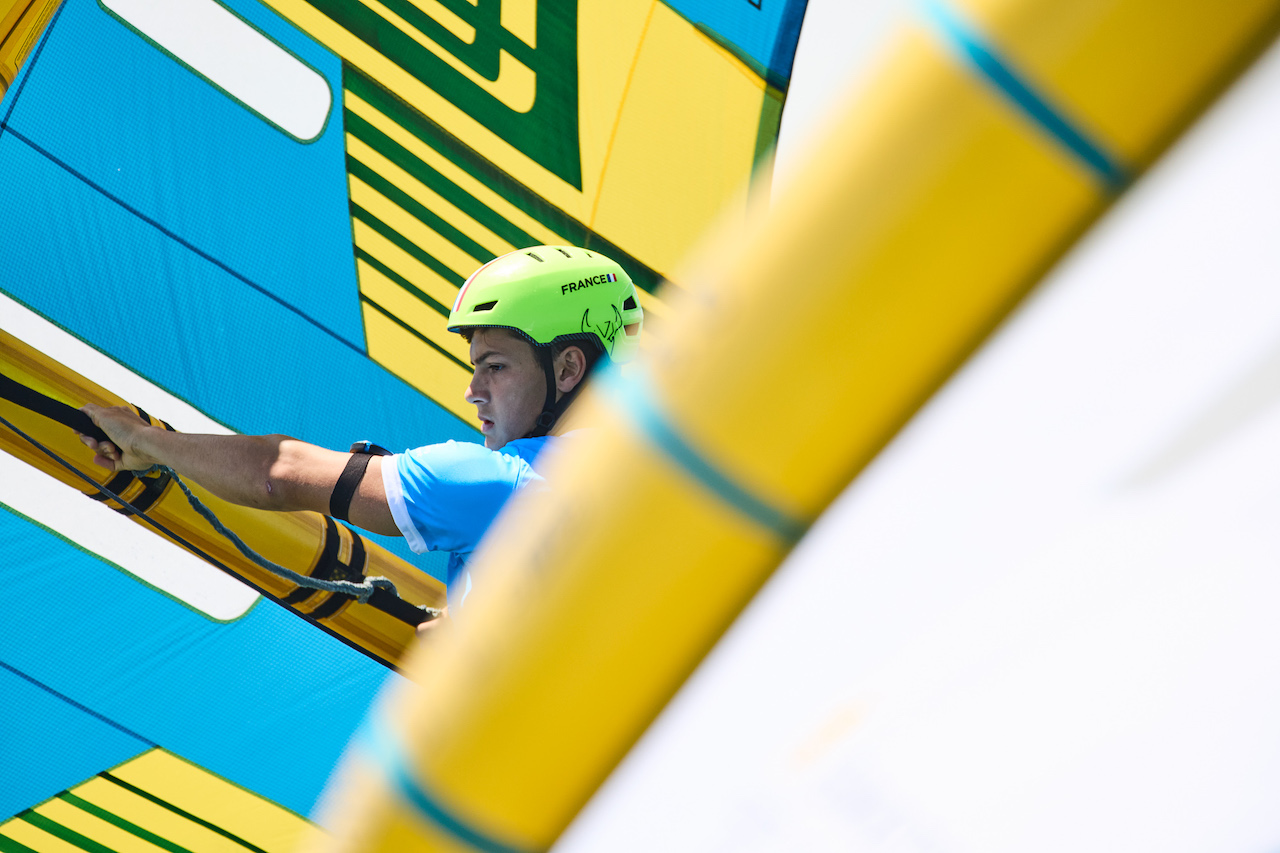 © IWSA/ Robert Hajduk: Mathis Ghio (FRA) focused, and winner of 6 out of 8 races
Eight short course races completed on day three of the Ad Ports Group Wingfoil Racing World Cup Abu Dhabi, and there were some very tired wingfoilers coming ashore at the end of racing.
Light winds are the hardest work for a wingfoil racer. When there's not much wind, you have to keep pumping the board with your legs to stay flying above the surface. It's a massive cardiovascular workout, as New Zealand rider Jeremiah McDonald explained: "If you want to win, you've got to pump really hard with your legs to keep the board moving in light winds. I think people are coming ashore exhausted because their energy reserves are down and they're not necessarily getting the result they want.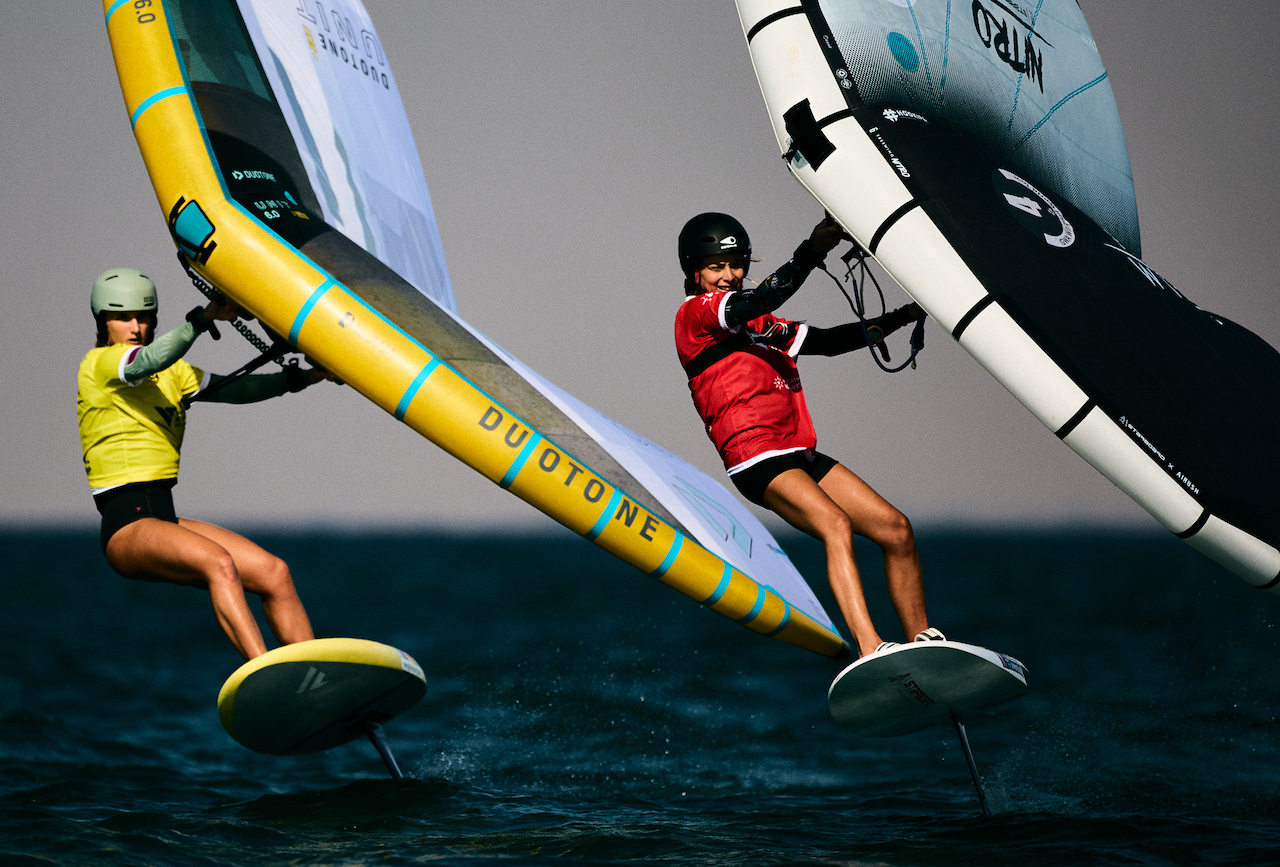 © IWSA/ Robert Hajduk: Orane Ceris (right) staying ahead of her friend Paula Novotna
"If you make a mistake, it's brutal. I came off the foil after one tack, and I was down for just 10 seconds but you're just watching as two or three people go past you," said McDonald who is battling it out in the silver fleet.
BATTLE BETWEEN NOVOTNA AND CERIS
In the women's fleet, reigning world champion Paula Novotna won 5 of the 8 races. But the Czech rider struggled in other heats, narrowly missing out in a close fight for the finish with her friend Orane Ceris, the French rider winning her first race of the event. "I started at the opposite end of the line from the other girls," said Ceris. "I had clean wind and that helped me to get into the lead."
The French rider found herself in a close battle with her friend Novotna as they approached the finish. The Czech competitor couldn't quite accelerate out of the final gybe and paid the price for opting for her smaller foil as her board sunk to the water while Ceris skimmed across the finish line.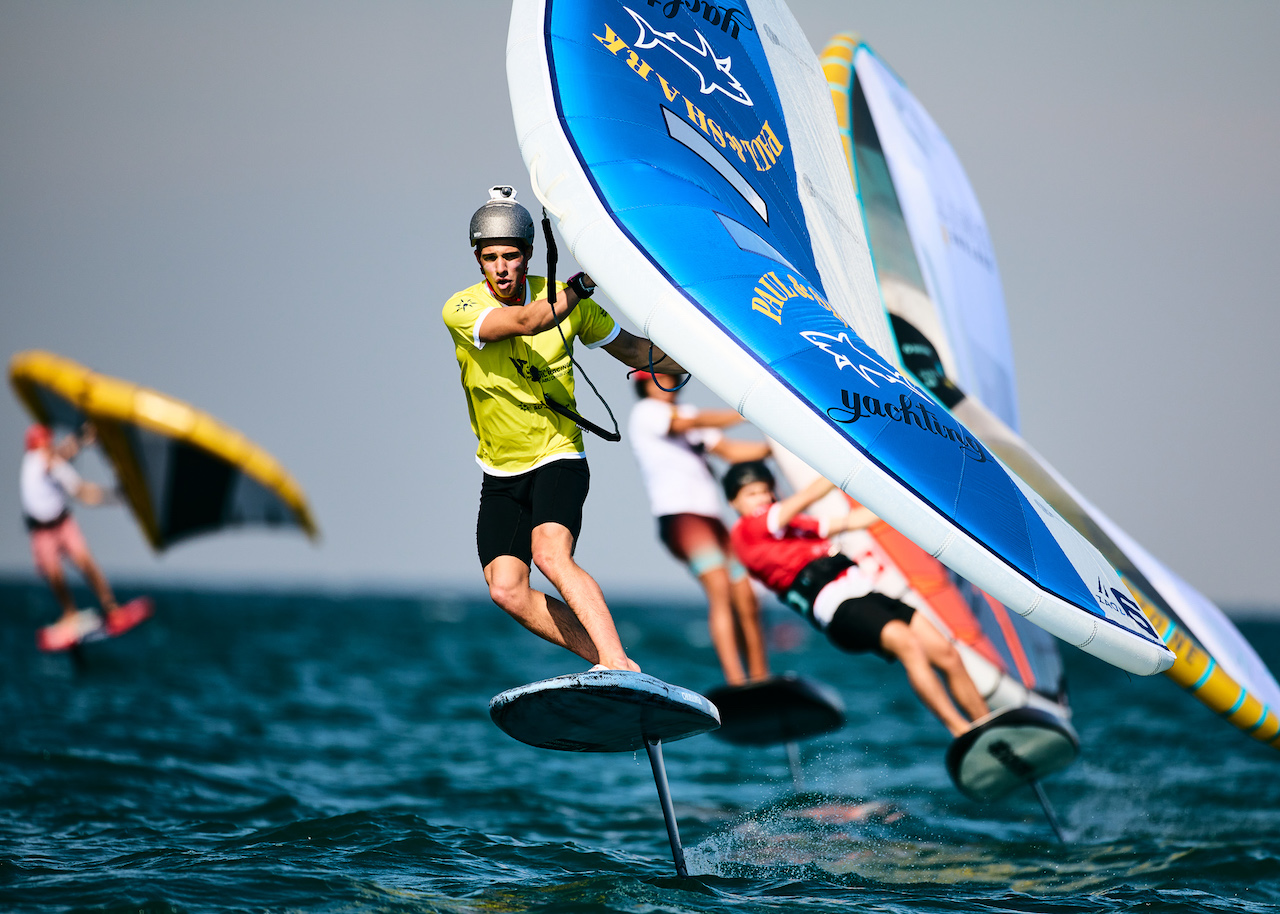 © IWSA/ Robert Hajduk: Luca Franchi looking poised and ready for a foiling gybe
The choice of which wing and which foil is an ever-stressful one for all the riders, and Novotna is no different. "I put my smaller foil on for the afternoon because I want to be faster, but I won two races in the afternoon and I crashed in the other two. I hate light winds, but I realised I need to get better in light winds otherwise I will never become No.1. Where I live in Cabarete there is a lot of light wind, so that is what I need to work on."
Behind Novotna is Karolina Kluszczynska (POL) in second, having won two races today, with Ceris in third overall.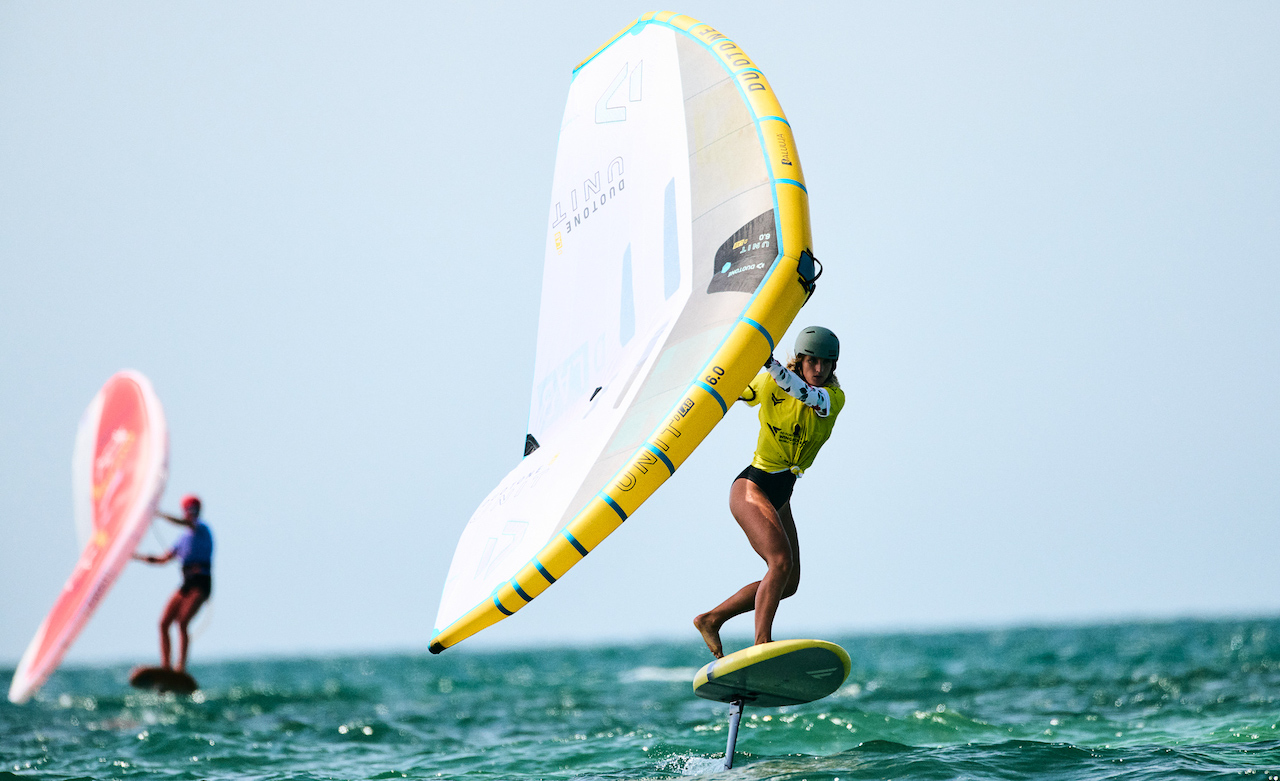 © IWSA/ Robert Hajduk: Perfect balance from Paula Novotna
In the men's gold fleet racing, Mathis Ghio (FRA) won six out of eight races to take the overall lead from Luca Franchi (ITA) who is now in second place. Somehow Ghio seems happy enough with his gear that he hardly ever changes equipment. His consistency is proving hard to match. Five points behind in second place is Franchi, with third-placed Mateo Dussarps (FRA) on equal points with the Italian.
© IWSA/ Robert Hajduk: Starting fast is a vital ingredient for success
NEW FINALS FORMAT
It's quite within the bounds of possibility for Franchi, Dussarps and others to get back at Ghio on the final day. And in the women's fleet, Novotna will need to look over her shoulder at the chasing pack if she's to secure the top of the podium.
The Medal Series has been designed to make it possible for anyone in the top 10 still to win overall, although the riders further down the rankings will have to sail an exceptional final series to overcome the front runners from the qualifying series.
Ghio, the reigning world champion, is looking forward to competing in his first Medal Series final. "Yes, there is a bit more pressure with this type of final, but it's not as extreme as the iQFOiL format, and I believe the best rider will win the week. I'm interested to see how it goes. Maybe I am just one race away."
To follow the action, go to https://wingfoilracing.com/2023worldcupabudhabi
written by Andy Rice, event reporter
More From This Category
With Dave…Tyburski! Facebook Comments Box